Vaginoplasty is a procedure that is used to reconstruct deformities in the vagina that often involves using a graft of tissue from another part of the body.
Vaginoplasty is a type of vaginal reconstruction surgery sometimes done to tighten a woman's vaginal muscles after childbirth. The purpose is to increase sexual pleasure and improve the look of the vagina. It's also known as cosmetic vaginoplasty.

During the vaginoplasty, the doctor will remove extra vaginal lining, and tighten the tissue and muscle around the vagina. If the procedure works as planned, your vagina will be tighter and you'll feel more friction during sex, which can be pleasurable. The procedure has risks, including scarring, infection, urinary incontinence (inability to control urine leakage), pain during sex, and loss of sensation.
Those of us who have had surgery to construct or reconstruct a vagina (called vaginoplasty) may wonder if we can expect the same vaginal changes related to menopause as women who have not had surgery. We may have had vaginoplasty as a child or as an adult, because of an intersex condition, sex reassignment surgery, cervical or vaginal cancer, or another reason. Overall, we can expect to experience many of the same menopausal changes as other women, including shortening of the vagina, atrophy, and dryness. If our vagina is made of a graft of skin, it may not change as much, but if it is mucous membrane, it is more subject to thinning and dryness. Our experiences will vary, just as the experiences of women who have not had surgery vary. Ongoing vaginal health care is important and requires follow-up beyond initial post-operative care.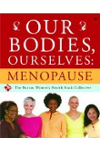 More About this Book
Our Bodies, Ourselves: Menopause
FROM THE EDITORS OF THE CLASSIC "BIBLE OF WOMEN'S HEALTH," A TRUSTWORTHY, UP-TO-DATE GUIDE TO HELP EVERY WOMAN NAVIGATE THE MENOPAUSE TRANSITION For decades, millions of women have relied on Our...
Continue Learning about Women's Health