While your waking temperature is lower before ovulation (97 to 97.7 degrees), it rises after ovulation (97.8). The rise typically happens a day after ovulation (because of progesterone, which induces heat). You can get a sense of when you're ovulating by taking your temperature first thing after waking, then plotting the numbers to the tenth of a degree. Ovulation has occurred when you see a more dramatic shift than the day-to-day fluctuations that happen during the rest of your cycle. That will give you an idea of which day in your cycle typically is your ovulation day.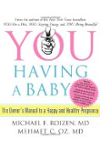 Continue Learning about Women's Health

Did you know that women are more likely to seek medical care than men? Sexual health needs, like pregnancy and contraception, often necessitate early visits to a doctor. But as we age, various health issues affect women more than ...
men, including depression, weight problems, and certain types of arthritis.In order to maintain your health and wellness, make sure you get an annual checkup.
More