Some of the treatments available for atrophy of vulva and vagina are given below:
Non-hormonal
Dryness or mild discomfort may be alleviated with vaginal moisturizers or lubricants. Moisturizers such as Replens or K-Y vaginal moisturizer keep the tissue from cracking; some products are deposited inside the vagina with an applicator, while others may be rubbed into the skin in much the same way hand or body lotion is used. Women should use products specially designed for vaginal use, and avoid products that may contain perfumes or alcohol because these may be irritating. Lubricants are slippery, and are more useful for enhancing sex. Lubricants include water based products, such as Astroglide, Lubrin, Moist Again, and K-Y lubricant, jelly, or Silk-E moisturizer. Some women use oils such as olive oil, but oil-based products may damage diaphragms and condoms and enable bacteria to cling to the vaginal wall, increasing the risk of infection.
Hormonal
For some women with problems related to vaginal atrophy, moisturizers and lubricants do not provide relief because the underlying problem has not been treated. Vulvar and vaginal atrophy respond well to the female hormone estrogen. Estrogen is effective whether administered by pill or patch (both of which are systemic, which means that they affect the whole body) or vaginally by tablet, cream, or ring (methods that provide more localized effects in the genital tissues). Local estrogen products include creams (Estrace, Premarin, and Ogen), a tablet (Vagifem), or a ring (Estring). Very small amounts of estrogens are absorbed from these products. Some women use estrogen products more often until the condition improves and then intermittently to maintain healthy vulvo-vaginal tissue.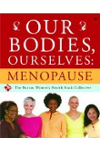 More About this Book
Our Bodies, Ourselves: Menopause
FROM THE EDITORS OF THE CLASSIC "BIBLE OF WOMEN'S HEALTH," A TRUSTWORTHY, UP-TO-DATE GUIDE TO HELP EVERY WOMAN NAVIGATE THE MENOPAUSE TRANSITION For decades, millions of women have relied on Our...
Continue Learning about Women's Health

Did you know that women are more likely to seek medical care than men? Sexual health needs, like pregnancy and contraception, often necessitate early visits to a doctor. But as we age, various health issues affect women more than ...
men, including depression, weight problems, and certain types of arthritis.In order to maintain your health and wellness, make sure you get an annual checkup.
More