A resting electrocardiogram (ECG) records the electrical activity of the heart and has the advantage of being inexpensive, widely available, and risk-free. On the other hand, it does not catch all problems. An ECG may identify problems with the electrical system of the heart but will not usually detect partial arterial blockage; that's the role of stress testing.
A stress test can identify the narrowing of coronary arteries that limits blood flow, usually that obstructing at least 70 percent of the blood vessel, but is unlikely to detect less severe narrowing. The simplest type of stress test is an exercise ECG, during which the ECG is recorded while you walk on a treadmill. The workload is gradually increased until you develop chest discomfort, shortness of breath, or fatigue, usually in about ten minutes. Stress testing is susceptible to both false negative test results (in which people with significant narrowing have a normal test) and false positive test results (in which people with no significant narrowing have abnormal test results). For reasons that aren't clear, exercise ECG is less accurate in women than men.
The accuracy of stress testing is improved by adding imaging to ECG monitoring. In a stress echocardiogram, ultrasound pictures of the heart are taken at rest and immediately after exercise. The areas of the heart with inadequate blood flow may not pump normally during stress. In nuclear imaging, a small amount of a radioactive tracer is injected into a vein, and a picture of the heart is acquired before and after exercise using a nuclear camera. By comparing the rest and stress pictures, the areas of the heart getting enough blood flow at rest but not during stress can be detected. For those who are unable to walk on a treadmill, intravenous medications can substitute. Although imaging studies are more accurate than plain exercise ECG, they can still provide false negative or false positive results.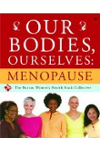 More About this Book
Our Bodies, Ourselves: Menopause
FROM THE EDITORS OF THE CLASSIC "BIBLE OF WOMEN'S HEALTH," A TRUSTWORTHY, UP-TO-DATE GUIDE TO HELP EVERY WOMAN NAVIGATE THE MENOPAUSE TRANSITION For decades, millions of women have relied on Our...
Continue Learning about Women's Health

Did you know that women are more likely to seek medical care than men? Sexual health needs, like pregnancy and contraception, often necessitate early visits to a doctor. But as we age, various health issues affect women more than ...
men, including depression, weight problems, and certain types of arthritis.In order to maintain your health and wellness, make sure you get an annual checkup.
More