Tantric sex uses intercourse as a form of meditation. It can help you become more attuned to each other and experience longer, more intense, and more satisfying sexual sessions.
Remember that the focus should be on giving and receiving pleasure, rather than intercourse itself. Set the mood by lowering the lights, lighting candles, and perhaps even playing some soft music. Enjoy an activ­ity together that allows you to relax…and do it in the nude. Shower together, or give each other massages, or even share a glass of wine and chat. Then, settle down to harmonize your breathing. Sit across from each other, and gaze into each other's eyes, and try to match your breathing to your partner's. Do this for 5 or 10 minutes. Next, experiment with touch, caressing each other's bodies and discussing what feels good. As you naturally transition into foreplay, maintain eye contact, and continue to harmonize your breathing. Keep it slow, and concentrate on giving your partner pleasure. Move into slow, sensual sex, using mindfulness and the exercising of your pelvic floor muscles to keep your orgasm at bay. If you feel yourself heading toward the brink, pause in your lovemaking, relax, tighten your pelvic muscles, and breathe. Then continue for as long as you can manage.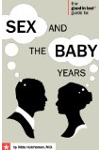 More About this Book
The Good in Bed Guide to Sex and the Baby Years
Available at a substantial discount for a limited time only, thanks to support from K-Y(R) Brand!Once you get down to the business of baby-making, the advice will pour in: books, magazines, in-laws,...
Continue Learning about Women's Health