The baby dance is a whole lot of sexy fun at first. But, as with any dance, eventually you start to get tired. You lose your rhythm. Maybe your feet hurt. You need a break to catch your breath. That's true even if you've only been trying to conceive for a few months. As time passes with no result, your disappointment can grow. You're in a never-ending episode of So You Think You Can Dance, but you're not any closer to grabbing that trophy. You may find that you begin to have less sex than you had before and the sex that you do have is less pleasurable. All of this can leave you both feeling frazzled and frustrated - a vicious cycle, since stress can contribute to infertility.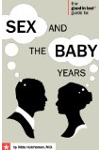 More About this Book
The Good in Bed Guide to Sex and the Baby Years
Available at a substantial discount for a limited time only, thanks to support from K-Y(R) Brand!Once you get down to the business of baby-making, the advice will pour in: books, magazines, in-laws,...
Continue Learning about Women's Health

Did you know that women are more likely to seek medical care than men? Sexual health needs, like pregnancy and contraception, often necessitate early visits to a doctor. But as we age, various health issues affect women more than ...
men, including depression, weight problems, and certain types of arthritis.In order to maintain your health and wellness, make sure you get an annual checkup.
More