When you're trying to conceive, you may find your sexual encounters dictated, in large part, by biology. All of a sudden, your sex life is tied to ovulation, and your appointment book is filled with "dates" for sex—on your fertile days, anyway.
You may not have complete control over all of the days you have sex, but you can certainly change up what you do. Inject some variety: Change up the time of day and location of your rendezvous. Take things a step further and add a little role-playing with new names, looks, and personalities for the night.
However you spice things up, don't feel forced to limit yourselves to your fertile days: Enjoy sex whenever—and wherever—you want it, not just when you're most fertile.
No matter how devoted you are to each other, and to your goal of getting pregnant, trying to conceive can eventually make sex seem routine. Unless you're one of the lucky few couples who get it on your first few attempts, sex can begin to feel like work.
The problem with sex on demand is that it starts to feel like any other ap­pointment in the weekly planner. All of a sudden, your sex life is tied to ovulation, and your appointment book is filled with "dates" for sex—on your fertile days, anyway. Visits to your doc­tor for invasive fertility testing and treatments can add additional stress to your sex life. Sex can start to feel like a business transaction. When you've got a one-track mind ("sex equals baby"), it can be easy to lose sight of the bigger picture: your life together as a couple. Counteract the pressure to procreate by rediscovering romance, in and out of bed.
Try to savor the journey just as much as you anticipate your destination. Take the focus off conception by paying attention to the sensa­tions that accompany sex. Anticipate the pleasure, not the end result. Buy a sex toy that you wouldn't ordinar­ily. Wear a sexy negligee (or silky boxers, if you're a guy) instead of your usual PJs. Touch and kiss each other in places you usually might not, like the eyelids, wrists, and ankles. Spread chocolate- and strawberry-flavored K-Y Yours Plus Mine Kissable Sensations For the Body, on your non-genital erogenous zones and invite your partner to remove it, slowly.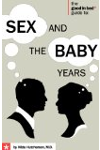 More About this Book
The Good in Bed Guide to Sex and the Baby Years
Available at a substantial discount for a limited time only, thanks to support from K-Y(R) Brand!Once you get down to the business of baby-making, the advice will pour in: books, magazines, in-laws, you name it - everyone will have something to say! But there's one thing that nobody will be talking about: your sex life--how it will change, and why you should cling to it, as passionately as you'll cling to that new bundle of life with the big eyes and winning smile.That's where this book comes in. Dr. Hilda Hutcherson, MD is a distinguished OB/GYN, an author of numerous best-selling books on the subject of sexual health, a candid advocate of healthy sex on shows such as Oprah, and, most importantly, a wife and mom of four - this lady knows what she's talking about!From the pressures of conceiving, to the fumblings of pregnancy sex, to the exhaustion of baby boot-camp and the ongoing trick of not letting your new identities as parents subsume your identity as a couple, having a baby isn't just an event, it's a milestone: a series of events that signifies a true transition into adulthood and marks a clear division between then and now. Available at a substantial discount for a limited time only, thanks to support from K-Y(R) Brand "Sex and the Baby Years" is about navigating that milestone - going in one way, and coming out changed on the other end. But also staying connected and loving throughout the process.About This Author:A graduate of Stanford University and Harvard medical School, Dr. Hutcherson is presently a Clinical Professor of Obstetrics and Gynecology and Associate Dean of Diversity at Columbia University College of Physicians and Surgeons. Hilda lives in Westchester New York, with her husband and four children.Dr. Hutcherson's commitment to women's health is evidenced by her monthly women's health column in Redbook Magazine where she is also a contributing editor. She is a frequent contributor to Essence Magazine, where she had a monthly column for eight years. She is a frequent invited speaker on Women's Health and Sexuality, and has appeared on many national television programs, including Oprah, the Racheal Ray Show, the TODAY Show, Good Morning America, the CBS Early Show, 20/20, Dr. Oz and others. Dr Hutcherson is the author of three books, including the best-seller: "What Your Mother Never told You About Sex."
Continue Learning about Women's Health

Did you know that women are more likely to seek medical care than men? Sexual health needs, like pregnancy and contraception, often necessitate early visits to a doctor. But as we age, various health issues affect women more than ...
men, including depression, weight problems, and certain types of arthritis.In order to maintain your health and wellness, make sure you get an annual checkup.
More