No matter how devoted you are to each other, and to your goal of getting pregnant, trying to conceive can eventually make sex seem routine. Unless you're one of the lucky few couples who get it on your first few attempts, sex can begin to feel like work.
Spontaneity can make sex so delicious, and before you have kids, it's almost always an option. Sure, you probably aren't doing it on your kitchen table or in the backseat of your car all the time - but you could if you wanted.
Yet even before parenthood, all that starts to change. When you're trying to conceive, you may find your sexual encounters dictated, in large part, by biol­ogy. All of a sudden, your sex life is tied to ovulation, and your appointment book is filled with "dates" for sex -- on your fertile days, anyway. Visits to your doc­tor for invasive fertility testing and treatments can add additional stress to your sex life. Sex can start to feel like a business transaction. And that kitchen table? It's a distant memory.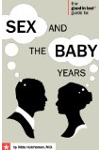 More About this Book
The Good in Bed Guide to Sex and the Baby Years
Available at a substantial discount for a limited time only, thanks to support from K-Y(R) Brand!Once you get down to the business of baby-making, the advice will pour in: books, magazines, in-laws,...
Continue Learning about Women's Health

Did you know that women are more likely to seek medical care than men? Sexual health needs, like pregnancy and contraception, often necessitate early visits to a doctor. But as we age, various health issues affect women more than ...
men, including depression, weight problems, and certain types of arthritis.In order to maintain your health and wellness, make sure you get an annual checkup.
More