At first, it's a dream come true for many men: a partner who wants sex, wants a lot of it, and wants it now. But over time, this "wham, bam, thank you, sir" mentality can wear thin. When sex is timed around ovulation, with the sole goal of procreation, foreplay and your emotional connection can go right out the window. Men can start to feel used ("She only wants me for my sperm!") - in fact, one recent survey found that 11 percent of guyscom­plained about sex on demand and admitted to feeling "completely used" during the process. Also, women can get resentful when men don't comply ("He always wanted sex before!").
If you are a woman with a high sex drive, the freedom to demand frequent sex can be liberating at first. But over time, the novelty may begin to wear off. For the first time, you may be the person in the relationship with the lower sex drive. You may even begin to view sex as a means to an end - his sperm. One of my patients described yelling at her husband, "It doesn't take that long! You don't have to enjoy it! Just ejaculate!"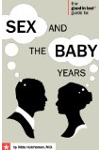 More About this Book
The Good in Bed Guide to Sex and the Baby Years
Available at a substantial discount for a limited time only, thanks to support from K-Y(R) Brand!Once you get down to the business of baby-making, the advice will pour in: books, magazines, in-laws,...
Continue Learning about Women's Health