Don't believe any hype about non-surgical methods for improving breast shape. Like other extremities (nose and ears), breasts get larger and sag with time as we replace glandular tissue with fat (that's true for both men and women by the way).

Bras, better posture, and exercises that work the underlying pectoral muscle can improve appearance, but there aren't any non-surgical methods for actually improving a breast's natural shape.

And here's reason 8,439 to avoid cigarettes: They destroy collagen that's important for maintaining breast shape.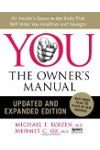 Continue Learning about Women's Health