Connecting with a group that is involved in working for social and political change can be an empowering and helpful step for many women. It has two advantages: It keeps in plain sight the external causes of one's suffering and it reduces the sense of powerlessness and isolation by providing a way to try to reduce these troubles. It may also help victims feel less ashamed or unusual.
Women who have experienced poor treatment in the mental health system or have found the required help unavailable or unaffordable may be particularly interested in helping to design caring and accessible forms of help and campaigning to make them a reality.
Women whose rights have been violated by practices such as involuntary commitment and forced drugging may want to work for the social and political changes necessary to eliminate coercion from the mental health system. Especially for women who feel victimized or neglected by the system, working to reform mental health care can be empowering.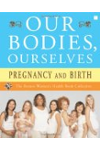 More About this Book
Our Bodies, Ourselves: Pregnancy and Birth
ALL THE INFORMATION YOU NEED TO MAKE WISE DECISIONS ABOUT YOUR PREGNANCY AND THE BIRTH OF YOUR CHILD -- FROM THE EDITORS OF THE CLASSIC "BIBLE OF WOMEN'S HEALTH" Pregnancy and birth are as ordinary...
Continue Learning about Women's Health