Some simple ways to keep irritants at bay are to avoid tight clothes such as panty hose, tights, or pants with thick seams at the crotch. Wash new underwear before wearing it, and give underwear an extra rinse cycle with plain water every time you wash it. Avoid fabric softeners and dryer sheets.
For washing the genital area, either avoid soaps altogether or use very mild, unscented soaps. Once-a-day bathing should be sufficient. Excessive washing can increase the irritation. Soaking with cool tap water or with Aveeno or Domeboro solution can soothe irritated skin. Unless specifically directed by a health care provider, douching is never necessary. Douching and the use of vaginal deodorants can change the normal balance of bacteria in the vagina and lead to infections. Scents used in vaginal deodorants can also cause allergic reactions.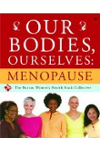 More About this Book
Our Bodies, Ourselves: Menopause
FROM THE EDITORS OF THE CLASSIC "BIBLE OF WOMEN'S HEALTH," A TRUSTWORTHY, UP-TO-DATE GUIDE TO HELP EVERY WOMAN NAVIGATE THE MENOPAUSE TRANSITION For decades, millions of women have relied on Our...
Continue Learning about Women's Health

Did you know that women are more likely to seek medical care than men? Sexual health needs, like pregnancy and contraception, often necessitate early visits to a doctor. But as we age, various health issues affect women more than ...
men, including depression, weight problems, and certain types of arthritis.In order to maintain your health and wellness, make sure you get an annual checkup.
More