The idea of physical perfection that dominates Western culture is largely promoted by the mass media. For women, this ideal of perfection is embodied by thin, young, and mostly white women. We are held to rigid standards of appearance, and we are subject to sexual objectification that men are not. Feelings of acceptance and support from significant individuals in our lives can help us resist the media's negative influences. In addition, a woman who is involved in a positive intimate relationship with a partner who she perceives is satisfied with her body tends to feel increased satisfaction with her body and is buffered from the culture's emphasis on thinness. But a poor body image continues to be a problem, and it is not just young women and girls who suffer from it. Some of us at midlife are vulnerable to disordered eating, anxiety, and depression, particularly if we see our body changes as deficits and sources of shame and guilt.
Researchers have documented a significant increase in full-body depictions of thin fashion models in the media and suggest that such images may contribute to the increase in eating disorders in U.S. women. We are subjected to approximately 3,000 advertisements a day through newspapers, the Internet, magazines, direct mail, and television. The images reflected in these advertisements almost always feature thinness and youth as measures of our importance, success, and sexuality. Because of this pervasive imagery, we end up comparing our bodies to those of women who are unusually and sometimes unhealthily thin and often enhanced by cosmetic surgery. The photos of these women are also almost always digitally altered. Many of the older women we see in the media have had cosmetic surgery and other procedures that mask their real age. Natural-looking women over age 50 are virtually nonexistent in the mass media, whether in movies or on the evening news.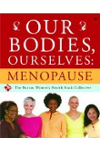 More About this Book
Our Bodies, Ourselves: Menopause
FROM THE EDITORS OF THE CLASSIC "BIBLE OF WOMEN'S HEALTH," A TRUSTWORTHY, UP-TO-DATE GUIDE TO HELP EVERY WOMAN NAVIGATE THE MENOPAUSE TRANSITION For decades, millions of women have relied on Our...
Continue Learning about Women's Health