Our body shape is determined by the type of fat we carry. Some of us are more prone to an apple shape, storing fat around the abdomen. Others tend to have a pear shape, storing fat around the hips, buttocks, and thighs. However, the distribution of our body fat may change during menopause and midlife. Some of us who were once pear shaped find ourselves apple shaped by midlife.
One of the consistent research findings on physiological changes during the menopausal transition is the shift in fat distribution from the thighs to the abdomen without any substantive change in total fat mass. In other words, more women become apple shaped after menopause. Loss of skin elasticity may cause the breasts to droop and flatten, and nipples may become smaller and flatter. Lessening of muscle tone in the abdominal wall can result in a protruding stomach, but regular exercise can counteract much of this particular change. Being an "apple" or a "pear" has certain health implications. Disorders such as heart disease, diabetes, obesity, and breast cancer have been associated with the apple shape. A vulnerability to osteoporosis, varicose veins, and cellulite has been associated with the pear shape. However, diet and exercise can have a significant impact in decreasing our vulnerability to these health risks.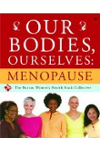 More About this Book
Our Bodies, Ourselves: Menopause
FROM THE EDITORS OF THE CLASSIC "BIBLE OF WOMEN'S HEALTH," A TRUSTWORTHY, UP-TO-DATE GUIDE TO HELP EVERY WOMAN NAVIGATE THE MENOPAUSE TRANSITION For decades, millions of women have relied on Our...
Continue Learning about Women's Health