If you exercise like it's your job, you might be hindering your fertility. Vigorous exercise prevents ovulation. You will know by the irregularity of your menstrual cycles. No ovulation means nobody's going to be putting any cribs together anytime soon.

Talk to your doctor to see how you can modify your exercise plan to restore your normal pattern. While it's obviously important to stay healthy and exercise, in general we don't think you should run more than 10 miles per week (or the equivalent). Because every woman's baseline fitness level is different and every pregnancy is different, it's impossible to know for sure how much is too much for your body and baby.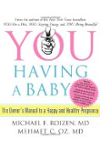 Continue Learning about Women's Health

Did you know that women are more likely to seek medical care than men? Sexual health needs, like pregnancy and contraception, often necessitate early visits to a doctor. But as we age, various health issues affect women more than ...
men, including depression, weight problems, and certain types of arthritis.In order to maintain your health and wellness, make sure you get an annual checkup.
More