Hormone treatment is not recommended to improve thinking or prevent dementia, although research on its effects is ongoing. The Women's Health Initiative (WHI) found an increased risk of dementia and no improvement in overall cognitive function for women older than 65 years who took hormones-both the estrogen-progestin combination and estrogen only.
There is some controversy about whether the WHI results provide a definitive answer to the question of estrogen's effect on cognitive decline. Observational studies have shown a 30 percent reduction in the risk of developing dementia due to Alzheimer's disease by taking hormone treatment. But observational studies are not as trustworthy as randomized, double-blind studies, such as the WHI. More studies have been proposed to investigate the theory that there is a critical window of opportunity for hormone treatment to be beneficial; such studies will examine the timing of hormone treatment (during or after the menopause transition) and its effect on long-term cognitive function and the risk of developing Alzheimer's. So far, no large, randomized, double-blind studies have shown improvement in memory and cognition with hormone treatment, whether taken early or at any time after menopause.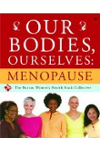 More About this Book
Our Bodies, Ourselves: Menopause
FROM THE EDITORS OF THE CLASSIC "BIBLE OF WOMEN'S HEALTH," A TRUSTWORTHY, UP-TO-DATE GUIDE TO HELP EVERY WOMAN NAVIGATE THE MENOPAUSE TRANSITION For decades, millions of women have relied on Our...
Continue Learning about Women's Health