A clever advertising tactic that has become mainstream is to manipulate the message that many feminists have tried to promote: Girls have the power to be anything we want, including the president, if only we use our voice and ideas. Advertisers and other media have reinterpreted this idea as "Girl Power," which tells girls we can wear anything we want and no one can tell us otherwise. In this interpretation, power has nothing to do with character or achievement but is instead the result of having a perfect body and not being afraid to show it off.
Many movies and television shows feature "powerful" characters that are in-your-face, aggressive, kick-butt women. But these action heroines dress in skintight clothes, if they bother to wear any, and are almost all white and thin with big breasts. They are nothing more than male fantasy objects that Hollywood constructed, cleverly co-opting the language of feminism. The notion that sexuality and promiscuity equal power and control is particularly perilous for girls navigating our way to adulthood.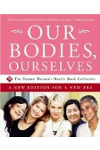 Continue Learning about Women's Health

Did you know that women are more likely to seek medical care than men? Sexual health needs, like pregnancy and contraception, often necessitate early visits to a doctor. But as we age, various health issues affect women more than ...
men, including depression, weight problems, and certain types of arthritis.In order to maintain your health and wellness, make sure you get an annual checkup.
More