The labia is made up of three parts:
1. Labia Majora: These are the soft, hairy lips on the outside of the vulva. They are stretchy, like the skin of the scrotum, and tugging at them provides indirect tugging of the clitoris.
2. Labia Minora: These are the sensitive inner lips of the vulva, usually some shade of pink in women of all ethnicities. They swell and darken with arousal and are made of very delicate tissue.
3. Labial commissure: This is the corner of the mouth, where the lips meet. It is incredibly sensitive. Be aware that the vulva has two labial commissures, the anterior and posterior.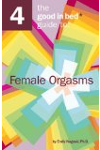 More About this Book
The Good in Bed Guide to Female Orgasms
Want to learn how to achieve 487 different kinds of orgasms?If so, you're reading the wrong guidebook. Despite what many in the media would have you believe, there's no such thing as a rainbow...
Continue Learning about Women's Health

Did you know that women are more likely to seek medical care than men? Sexual health needs, like pregnancy and contraception, often necessitate early visits to a doctor. But as we age, various health issues affect women more than ...
men, including depression, weight problems, and certain types of arthritis.In order to maintain your health and wellness, make sure you get an annual checkup.
More