Some couples get pregnant right away. Others find themselves grappling with infertility issues. Fortunately, most of us fall somewhere in the middle. But even this period of trying can be, well, trying. With trysts often scheduled around ovulation, you may find your sex life loses its spontaneity. This sort of "sex on demand" may seem appealing at first, over time, it can make men feel like their only purpose is to procreate. Suddenly, something that was spontaneous and unpredictable has become routine and scheduled. Also,with conception sex, we often skip the niceties of foreplay and go straight for the intercourse. Sex can start to feel like a chore for both parties.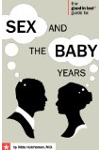 More About this Book
The Good in Bed Guide to Sex and the Baby Years
Available at a substantial discount for a limited time only, thanks to support from K-Y(R) Brand!Once you get down to the business of baby-making, the advice will pour in: books, magazines, in-laws,...
Continue Learning about Women's Health

Did you know that women are more likely to seek medical care than men? Sexual health needs, like pregnancy and contraception, often necessitate early visits to a doctor. But as we age, various health issues affect women more than ...
men, including depression, weight problems, and certain types of arthritis.In order to maintain your health and wellness, make sure you get an annual checkup.
More