Ask for help if you are a mom. Trade babysitting nights with family or friends. Ask your spouse to pick up more slack. Single moms need to be even more vigilant with their time and energy, and not hesitate to call on friends and family for help. Nearly half of working mothers are heavily stressed every day. It takes a village to raise children, but many parents are doing it solo. Do what you need to do in order to have more you time.

By the same token, don't play "helicopter" parent. Start your children at an early age performing age-related tasks that make life easier. Get them to make their own breakfast, clean their rooms, and place their things in proper spots. Less chaos is helpful for everyone. Shower them with love, but send them to bed on their own after second grade. The bedtime situation is usually challenging.

Share the vibe. Schedule a dinner club once a month with your friends -- people with whom you share deep connections. Setting aside time with those who can help us relax and move away from the limelight of stress is important for our emotional and physical health. As we mentioned earlier, it's important for us as women to get together and talk, share stories and advice, and laugh. It's a great way to decompress. Once a month, plan your outings with your friends (where, when, who is hosting, who is cooking, etc.) and don't let a month go by without one of these get-togethers. Maybe you'll just sit around playing Bunko or listening to music and drinking wine. However the night plays itself out, you'll come to enjoy these times together-and so will your body's energy-making machine. Warning: talking on the phone doesn't count here. Even though we have more gadgets now than ever to connect with others, we also have a higher number of people complaining of loneliness and feelings of disconnectedness. It seems like the more connections we make on the surface, the more we lose out on opportunities to nourish and renew those much deeper and rewarding connections in person.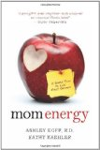 More About this Book
Mom Energy: A Simple Plan to Live Fully Charged
       From celebrated dietitian Ashley Koff and fitness trainer to the stars Kathy Kaehler comes Mom Energy, an exciting new way for moms to tap into their own natural and renewable sources of...
Continue Learning about Women's Health