Adults should get a tetanus shot, which now includes the pertussis vaccine, every 10 years. There is a lot less immunity against whooping cough in the adult population nowadays because most adults are not very compliant with their tetanus shot schedule unless they get an injury or something.
It's important to make sure you're up to date on your whooping cough vaccine. This is especially true if you're a parent, have young children in your family, or work with children or in the healthcare industry.
Often thought of as a disease of ages past, pertussis -- or whooping cough -- is on the rise. To help prevent its spread, adolescents and parents of infants should get a booster vaccine, which is now combined with the adult tetanus/diphtheria vaccine. So, next time you need a tetanus booster (watch out for rusty nails), ask for the tetanus/diphtheria/pertussis combo booster. Your doc will be impressed!
From The Smart Parent's Guide: Getting Your Kids Through Checkups, Illnesses, and Accidents by Jennifer Trachtenberg.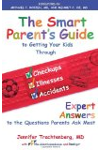 Continue Learning about Whooping Cough

If your child experiences uncontrollable coughing that makes it difficult for them to breathe, talk to your doctor about whooping cough. Thousands of people yearly become ill with whooping cough, which is also known as pertussis, ...
and some are hospitalized. This highly contagious illness can be very dangerous, and even deadly, in young infants. Thankfully, vaccines have helped to reduce the spread of whooping cough, although current vaccines are not 100% effective against this illness. If your child contracts this bacterial respiratory infection he or she will most likely be treated with antibiotics. To protect your children against whooping cough, talk to your doctor about vaccination
More