After birth, your baby is still attached by the umbilical cord to the placenta inside you. There's no medical reason to cut it immediately. In hospitals, many providers cut the cord as soon as the baby breathes. Let your provider know what you want. If you wait until the cord stops pulsating, the baby receives up to 50 milligrams of iron to add to her or his reserves, which helps prevent anemia. The cord is clamped or tied off a short distance from the baby's navel. If you have decided to save cord blood for storage your provider will collect it now. You may want your partner or family member to cut the cord. The bit of cord left on the navel will dry up and usually falls off within ten to fourteen days.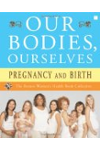 More About this Book
Our Bodies, Ourselves: Pregnancy and Birth
ALL THE INFORMATION YOU NEED TO MAKE WISE DECISIONS ABOUT YOUR PREGNANCY AND THE BIRTH OF YOUR CHILD -- FROM THE EDITORS OF THE CLASSIC "BIBLE OF WOMEN'S HEALTH" Pregnancy and birth are as ordinary...
Continue Learning about What Will Happen After Delivery & Pregnancy