Usually the cervical mucus plug, amniotic membranes, and amniotic fluid protect your baby from the bacteria that normally live in your vagina. Occasionally, when the membranes have been ruptured for a long time or with long labor, an infection can develop. An infection of the amniotic membranes, or bag of waters, is known as chorioamnionitis (KOR-eo-am-ne-on-I-tis).
Fever is one sign of an infection. (Fevers can also be caused by dehydration and are associated with the use of epidurals.) If your providers think it is very likely that you have chorioamnionitis, you will probably be given IV antibiotics until you no longer have a fever and your labor will be induced if you are not already in labor.
If your waters break a long time before labor starts, and if you have sex or vaginal exams that introduce bacteria from the vagina into the cervix and uterus, there is a greater chance of developing chorioamnionitis. Some women develop an infection without having had any vaginal exams, just because the protective barrier between the fetus and the outside world has ruptured and let bacteria get in. Chorioamnionitis may spread from the membranes to the uterus and cause a uterine infection, known as endomyometritis, after the baby is born.
The usual treatment for chorioamnionitis is inducing labor, usually with oxytocin , and giving you intravenous antibiotics. Your baby will also need blood tests and intravenous antibiotics for forty-eight hours after birth. Endomyometritis is also treated with intravenous antibiotics. If you develop a uterine infection, you may have to stay in the hospital for at least forty eight hours after the birth.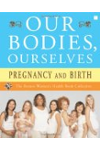 More About this Book
Our Bodies, Ourselves: Pregnancy and Birth
ALL THE INFORMATION YOU NEED TO MAKE WISE DECISIONS ABOUT YOUR PREGNANCY AND THE BIRTH OF YOUR CHILD -- FROM THE EDITORS OF THE CLASSIC "BIBLE OF WOMEN'S HEALTH" Pregnancy and birth are as ordinary...
Continue Learning about What Will Happen After Delivery & Pregnancy