Suddenly, months of waiting and wondering are over. You can actually see your baby's face rather than just imagine it. You can stroke his hair or count and kiss her fingers and toes. You can watch her drift in and out of sleep or whisper his name into his ear.
You and your new child need as much peace and quiet time together as you can create. In any setting, well-meaning providers and others can interrupt this important personal time because they want to know how you and your baby are doing. In a hospital, medical personnel may have their own schedules for evaluations. Providers often can unobtrusively examine your baby in your arms. It is usually not necessary to have tests done right away. If there is a medical reason to take your baby away from you for a short time, your partner or support person can accompany the baby.
The first few hours of a baby's life are a time of heightened awareness. Breast-feeding will be easier to establish if your baby nurses within the first hour or two after birth. Babies have an instinctive sucking reflex but show varying degrees of interest and take different amounts of time to nurse. Some latch on to the breast immediately; others learn to do so more gradually over a period of hours. Smelling, licking, and exploring your breasts are part of the process. Allowing your baby to suckle, even if you don't plan to breast-feed, will give her or him the benefit of antibodies and nutrients from colostrum, the first "milk."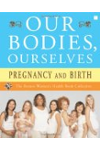 More About this Book
Our Bodies, Ourselves: Pregnancy and Birth
ALL THE INFORMATION YOU NEED TO MAKE WISE DECISIONS ABOUT YOUR PREGNANCY AND THE BIRTH OF YOUR CHILD -- FROM THE EDITORS OF THE CLASSIC "BIBLE OF WOMEN'S HEALTH" Pregnancy and birth are as ordinary...
Continue Learning about What Will Happen After Delivery & Pregnancy