Some babies breathe as they are being born, and look pink immediately. Others are still and respond well if you rub their backs until they are breathing in a regular, sustained way. Healthy babies are usually able to clear their own airways of fluid and mucus. If a baby's breathing is a little difficult at birth, or there is a lot of mucus, gentle suctioning may be helpful. In these cases, midwives and doctors suction amniotic fluid and mucus out of the baby's mouth and nose. If there was meconium (the baby's first bowel movement) in the amniotic fluid, the baby may need additional deeper suctioning right after birth to prevent the fluid from getting into her or his lungs.
Mothers and babies belong together during this precious time. When you feel ready, hold your baby naked against your belly and breasts, near the familiar sound of your heart, so that she or he can touch your skin and smell, hear, and see you. Laying the baby on your naked body and covering the baby with a blanket will help stabilize her or his temperature.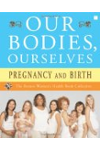 More About this Book
Our Bodies, Ourselves: Pregnancy and Birth
ALL THE INFORMATION YOU NEED TO MAKE WISE DECISIONS ABOUT YOUR PREGNANCY AND THE BIRTH OF YOUR CHILD -- FROM THE EDITORS OF THE CLASSIC "BIBLE OF WOMEN'S HEALTH" Pregnancy and birth are as ordinary...
Continue Learning about What Will Happen After Delivery & Pregnancy