Past difficulties in relationships and the resulting fear, anger, or depression can cause disconnections in our current relationships with ourselves and others. We tend to withdraw, and a numbness develops in our bodies and souls to the point where intimacy may seem impossible.

Sleep deprivation or insomnia can also inhibit intimacy. When we are exhausted, it is almost impossible to muster the energy to be intimate. Stress (a modern epidemic) creates a state of almost constant worry and defensiveness within us. We worry about what happened yesterday and what will happen tomorrow. When we rob ourselves of the present moment, there is no possibility for intimacy, for intimacy only happens when you can be fully aware and deepen the "now" you are experiencing with your loved one.

Cell phones, e-mails, and beepers often serve to isolate and alienate us even more while giving only an illusion of intimacy, as we are not physically in the presence of another person. Our current culture dictates that we move faster, move forward, reach outward for some sort of fantasy of fulfillment in the material world. But true intimacy is a slowing down, a moving inward, a spiral journey toward your authentic self.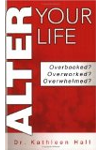 Continue Learning about Intimacy