The willingness to show anger, love, even fear is the gift of a profound intimacy. This kind of intimacy -- knowing and letting oneself be known -- requires overcoming many ancient fears, but it's worth every risk. And it's a never-ending process.
In the end, it's all about finding your best self, not losing yourself in another. About finding someone you like yourself with, not someone to save you from yourself. I love how this notion takes the idea of finding "the one" out of the fairy-tale land of Prince Charming sweeping us off our feet and puts the onus squarely on us. How contrary to the traditional notions of romantic love involving the idea that we'll be "swept away," "knocked off our feet," or "fall head over heels" -- not exactly healthy states of being! I much prefer the kind of love that comes down to "I like me best when I'm with you -- fearless and at peace."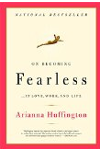 More About this Book
On Becoming Fearless...in Love, Work, and Life
Observing that her own teenage daughters were beginning to experience some of the same fears that had once burdened her--how attractive am I? do people like me? do I dare speak up?--Arianna...
Continue Learning about Intimacy