Alter your intimacy by following the tips below.

Ask yourself:
Right now, in this moment, am I moving toward intimacy or away from it?
In what ways do I experience intimacy?
How can I deepen my intimacy with myself and my loved ones?
Tell yourself:
"I am perfect, whole, and complete."

Give yourself:
a strong commitment to unstructured time with your loved ones
a journal to keep a chronicle of your path to greater intimacy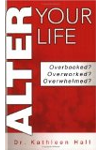 Continue Learning about Intimacy