You need to be on the lookout for signs that other people may be mistreating your child, and nowhere is that more important than in the area of sexual abuse. Male offenders are more common than females, and the majority of perps are people known to the child, such as relatives, significant others, and authority figures. The key to prevention: supervision, supervision, supervision. Also, be attuned to your child. If she comes home from somewhere and is acting strangely or shows resistance to going to someone's house, trust her and try to provide a safe space for her to talk about her feelings. And if you suspect sexual abuse, see your pediatrician immediately. Not tomorrow, now.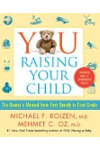 Continue Learning about Child Abuse
In most cases of child abuse, the abuser is someone the child knows; parent, relative, or family friend. Abuse can be emotional, neglect, sexual, or physical abuse. All types of abuse can cause permanent mental or emotional damage ...
to the child as they age. Many will turn to alcohol or drug use, and some may become withdrawn and depressed.
More