It is okay to be fallible because I cannot believe that God, the most loving of parents, would judge us for "guessing wrong." Were we not purposely created on this planet with fallibility? If this is so, then why would we be judged? Would you judge your young child for not knowing calculus? That would seem silly and absurd. Yet, it is clear to me that at this stage of my growth I am no more able to know the absolute fullness of God than my two-year-old granddaughter is able to know calculus.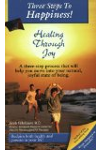 More About this Book
Three Steps to Happiness! Healing Through Joy
Happiness is our natural state of being. It is who we are. This happiness is obvious when you look at little children before they take on society's beliefs. Their natural state is to feel all of...
Continue Learning about Wellness