Habits are dangerous because they can make your life a series of mindless actions. Many people go through their entire lives living a life of habituation. They get up at the same time, jump in the shower with their mind racing, eat the same breakfast day after day, drive the same roads to work, and do the same tasks at the office each day. The neuropathways of the brain get reinforced over and over again, day after day, year after year, decade after decade. Our life can become a collection of mindless, almost thoughtless habits. So many of the individuals I have counseled over the years have lived lives entrenched in habituation and their precious lives have passed them by.

Habituation can deaden your innate gift of awareness. You can become deaf to the voice on your inner GPS and you can't feel you inner spark. Habituation can become an anesthetic that numbs you to the power of your choices and causes you to become the victim of your life.

You can become habituated or paralyzed in the midst of the chaos or shallowness of your lives. As you become the victim of your life, you begin to live as if you expect some outside force to come along and create happiness in your lives. No one else can bring you true happiness; not a government, a church, a spouse, a partner, or children. When you choose to create an intentional life of happiness, no event or person can get in your way.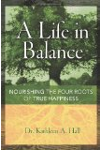 Continue Learning about Wellness