For those who need to be handheld through a quick cleanse, try the following 12-step program every day for three full days:

1. On waking, take a probiotic with hot tea or hot water with lemon.

2. Stretch, do some exercise, you may feel hungry or slightly lightheaded so adjust your pace/duration accordingly but even 15 minutes will net some fat-burning effects.

3. Make a protein-greens drink with water (or coconut water) and a healthy fat like avocado. Drink slowly and take a vitamin D3 supplement.

4. Sip on hot beverages (herbal tea, water with lemon) throughout the morning. If starving, add almond or rice milk (organic, plain).

5. Midmorning: have a snack of 1 cup organic applesauce and 1 tablespoon flaxseeds or chia seeds.

6. Midday: this is your best time for an eating occasion. Try organic veggies or veggie soup (pureed, no
dairy) with vinegars or hempseeds, herbs, and spices (roasted and sautéed veggies are great too if done with a healthy organic oil).

7. Midafternoon: perhaps a tea latte (self-made unless you have a place that does organic almond or rice milk and no sweetener; most commercial coffee shops making tea lattes use both sugar-based tea powders and sweeteners or sweetened soy milk, so make sure you ask) with some veggies or cultured veggies with hempseeds, spices, and dressing or a small cup of soup or real seaweed salad (not the neon green sweet one at the store). If you're not into all the "fancy stuff," some cut up cucumber, jicama, and celery and mix it with cayenne and lime to make a great crunchy snack option.

8. Before 7 p.m.: blend up a smoothie but skip the added greens if you have trouble sleeping.

9. About 1 hour before bed take a magnesium citrate supplement that aids sleep and stress reduction. Dosage should reflect your regularity -- if you are having regular bowel movements go with 1 to 2 teaspoons.

10. Consider dry brushing the skin, a hot bath or shower, coconut oil on wet skin, a facial mask for 20 minutes, and using a roller to roll out your muscles.

11. If you can, during the cleanse wear minimal or no makeup or nail polish and let the body air itself out.

12. Get regular exercise (yes you want to sweat), schedule a massage and infrared sauna sessions, practice yoga, take long (hilly!) walks, and find time to sit in silence.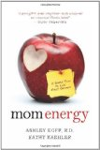 More About this Book
Mom Energy: A Simple Plan to Live Fully Charged
       From celebrated dietitian Ashley Koff and fitness trainer to the stars Kathy Kaehler comes Mom Energy, an exciting new way for moms to tap into their own natural and renewable sources of...
Continue Learning about Wellness