Try something a bit silly that lifts your spirits. Why? Well, why not? Every once in a while we need something to lighten our mood. Emotional distress, such as feeling blue, feeling anxious, or just plain feeling stressed, take a toll on our memory by making it harder for us to be focused.

Let's face it, it's distracting to feel down! So try something that makes your spirits soar and put a smile on your face.

If you need some inspiration, try putting on some favorite dance tunes and strut your stuff a bit -- that always puts a smile on my face!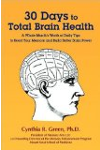 More About this Book
30 Days to Total Brain Health®
Get ready to make the move to better brain health! In this remarkably effective, scientifically-grounded plan, Dr. Cynthia Green, a clinical psychologist and one of the country's most notable experts...
Swap your endless to-do list for some spontaneous playtime. It packs big benefits for your health, mood, mind, job and even your relationships. When you're floating free, happy and totally absorbed, you're taking a mini vacation from deadlines, bills and your crazy-busy schedule. Anything counts, from enjoying a silly moment with your spouse to hosting an impromptu gathering, to cooking up a new recipe in the kitchen.
The National Center on Accessibility defines play as "a physical or mental activity that has no purpose or objective outside of pure enjoyment or amusement" (Definition of play, 2004). While children learn so much through play, their goal is pure fun. This fun helps us to relax and makes us better learners. Although, the goal of play may be pure fun, play is educational and a path through development. Play helps us to grow cognitively, emotionally, socially, and physically. We learn more about our world, ourselves, and others through play, all via the vehicle of fun. Even as adults, play can benefit us in all the same ways. Play helps us to grow in creativity, abstract thinking, problem-solving, empathy, confidence, cooperation, conflict resolution, concentration, vocabulary and more. It allows us to be physically active, practice taking risks, practice interpersonal skills, and try new things.

In your journey towards improved health, how often are you taking time to play? Is your exercise a workout or an opportunity to play? Is exercise an obligation or a time to relax and have fun? The way to grow a muscle is to stress and recover and stress and recover. Physical play can help you recover mentally and continue to grow as a person. Try an intramural sports league, a Zumba class, or ballroom dancing.
Continue Learning about Wellness