Important health numbers you should keep track of include your cholesterol, blood pressure and blood sugar levels. High blood pressure, diabetes or high cholesterol can increase your risk of developing heart disease and strokes. That's why it's important to check your cholesterol, blood pressure and blood sugar levels. Knowing those numbers and getting your scores into healthy ranges can help reduce your risk of heart disease. Here's a rundown of key numbers and related health conditions.
Blood pressure:
Healthy blood pressure: For adults, a normal blood pressure is a reading below 120 mmHg/80 mmHg.
Pre-hypertension: The target range for pre-hypertension is an upper number in the range of 129-139, and a lower number in the range of 80 to 89.
High blood pressure: is a reading of 140/90 or higher.
Cholesterol levels
People with high total cholesterol have approximately twice the risk for heart disease as people with ideal levels.
Total cholesterol: Aim for less than 200 total cholesterol.
Triglycerides: less than 130
These numbers should be lower still if you have diabetes or kidney disease.
Blood sugar numbers:
Healthy glucose numbers: After an overnight fast should be less than 100.
Caution: If your fasting glucose is greater than 100, get an A1C test.
Normal: A healthy A1C number is less than 5.7.
Prediabetes risk: An A1C reading between 5.7 and 6.4.
Diabetes: An A1C number greater than 6.5 indicates diabetes.
Type 2 diabetes, high cholesterol and hypertension can be regulated or cured with exercise, diet and medication. Consult your doctor for an individualized plan.
Important personal health numbers include your blood pressure, the circumference of your waistline, blood sugar levels and your cholesterol readings. Knowing and tracking those numbers can give you early warnings of any health problems.

You should find out your numbers at age 20, 25 and 30. After age 30, you need to get them checked every year. Knowing your numbers empowers you, keeps you in touch with your doctor, targets any problem areas and keeps you moving in the right direction. Prevention is a top tool in fighting heart disease, the number one killer of Americans. Knowing key numbers from a simple medical exam can save your life.
Everyone knows about blood pressure and cholesterol, but there are other numbers to watch. Learn what they are in this video with Michael Roizen, MD, chief wellness officer for the Cleveland Clinic.


The most important numbers to watch are the big three -- cholesterol, blood pressure and blood sugar -- plus two more: homocysteine and C-reactive protein. Consider these numbers a stock ticker for a heart-healthy ticker. They tell you how you're doing and when you need to do more. When you have them measured, make sure your doctor also tells you your goal levels and what you can do to get there. Getting more active, losing weight, and making smart food choices can help get your numbers in a healthy range.
Get your blood pressure checked. The number 120 over 80 is the goal for maintaining a healthy blood pressure. High blood pressure or hypertension carries many health risks, and left untreated or addressed, can lead to long term health problems such as heart disease, stroke, eye, and kidney disease.
For most people there are no symptoms for high blood pressure/hypertension.
Although a healthy diet and exercise has been proven to lower and help maintain a healthy blood pressure, hypertension may be a part of your family history and you may need a physician/medication help to control your blood pressure.
Here are some of the important health numbers you should keep track of. First, grab a measuring tape and start with your waist size. Measure at your belly button. Ideally, your waist size should be less than half your height. For most men, that means less than 40 inches, and for most women, less than 37 inches.

Once you have a handle on your love handles, check your blood pressure. Of all the numbers you need to know, this one is the most important. If the systolic or first number is 140 or above or if your diastolic or second number is 90 or more, alert your doctor. The ideal blood pressure is approximately 115 over 75.
Another number to take note of is your resting heart rate. Take your pulse when you get out of bed in the morning and strive to get it as close to 60 as possible.
This content originally appeared on
doctoroz.com
Continue Learning about Wellness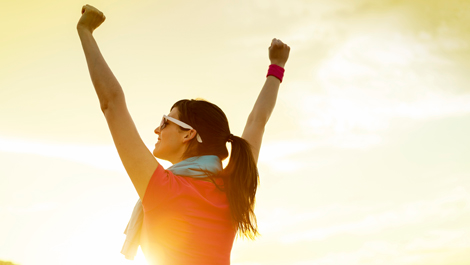 Wellness is a difficult word to define. Traditionally wellness has meant the opposite of illness and the absence of disease and disability. More recently wellness has come to describe something that you have personal control over. ...
Wellness is now a word used to describe living the best possible life you can regardless of whether you have a disease or disability. Your wellness is not only related to your physical health, but is a combination of things including spiritual wellness, social wellness, mental wellness and emotional wellness. Wellness is seen as a combination of mind, body and spirit. Different people may have different ideas about wellness. There is no single set standard for wellness and wellness is a difficult thing to quantify.
More