We know from behavioral science that a new behavior needs to be rewarded frequently in order for it to become a permanent habit.
To reward yourself for changing health habits:
Decide on the reward before you start to make changes in your behavior.
Determine when and how often you will treat yourself.
Include your rewards on your monitoring chart and post it where you'll see it every day.
Make sure that your rewards occur frequently in the beginning. For example, don't spend a month exercising before you get a reward. Small, frequent treats, such as a brief chat with a friend on the phone or taking the time to watch the sunset, are especially important in the beginning.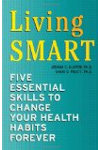 Continue Learning about Wellness