As you allow the words of the text to surround and envelop you, read as though you have all the time in the world. Read passages that strike that inner chord over and over again. Each time you re-read a passage, it will sink deeper into you, and you will sink deeper into it. When you read the same passage at different times in your life, you re-experience the words from different perspectives, and discover different insights in the same text at different times and in different situations.

Read a poem or passage out loud and savor its sounds in your soul. Read a short passage, then put it down. Inhale. Exhale. Contemplate the message in silence. By breathing deeply and consciously, you strengthen neural connections, stimulate beneficial hormones, and invite in a profound sense of well-being.

Soak in the words. Let them permeate your whole body, lingering with you long after you have moved on from your reading. Practice awareness, intention, and choice to bring more balance and fulfillment to your everyday engagement with the written word.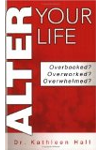 Continue Learning about Wellness