To weather the seasons of your life and experience true happiness, the tool of surrender (letting go) is essential. Nature teaches us that anything too brittle and nonflexible not only breaks, but often dies. Everything in nature weathers, ebbs, and flows, grows and sloughs, experiences times of expansion and contractions. Surrender is an act of courage, trust and power. Surrender is your sure path to balance and living an authentic life of true happiness.

We learn early in life that there are winners and losers - and the word "surrender" is traditionally associated with losers. Embracing the concept of surrender as essential to experiencing true happiness is counter-intuitive.

"Surrender" meant to lose, fail, or to be conquered. "Surrender" conjured up images of a defeated soldier on a bleak battlefield waving a white flag.

Surrender may sound simple, but it is often not easy. Letting go can be one of the deepest and most challenging of emotional and spiritual practices. It the idea of surrender brings anxiety, take a moment to consider your that ego and will may have constructed the life you are living. Consider that you may not be connected to your true life's purpose, that you may not be living an intentional life with the authentic you in balance with your life.

Surrender is the perfect tool to discover your true life's purpose. Great spiritual and psychological minds throughout history have extolled the amazing power of letting go and trusting the process. When you embrace surrender, you release ego and your attachment to life the way you have constructed it. When you embrace surrender, you trust a power greater than your own.

There is immense power in this surrendering and letting go. Surrender restores us to our Source. Surrender restores our balance. Surrender is trusting the flow of energy, intelligence, and love that created your life. This omnipotent energy knows what you need and will move you in the direction of your full potential.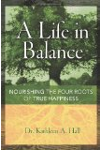 Continue Learning about Wellness