Gardening can be one form of spiritual activity on several levels. Foremost, the act of creating is one of great reverence; through sowing and seeding, you are perpetuating a life force of nourishment and beauty. Each plant is a living thing and, like human beings, no two are exactly alike.
You may also enter into a state of solitude while gardening, one in which you slowly lose sense of self (i.e. time, the need to use the bathroom, etc.) while becoming more and more aware of being a part of something greater than yourself. This is not dissimilar to the states of solitude achieved by those of formal spiritual position (the rabbi, the nun, the monk, the yogi, the guru). It is within such a state of solitude that one may feel a sense of spiritual connectedness. Have you ever noticed that, while gardening, you effortlessly get answers to questions you've been wondering about?
Finally, gardening is an act of contribution that becomes particularly spiritual if you gather the fruit of that contribution (be it flowers or vegetables) in order to bring joy and appreciation to others.
The metaphors for a balanced life are grounded in gardening: scattering seed, planting, watering, nurturing, growing, harvesting, storing. Gardening connects us to the natural cycles of the seasons: the new life of spring, the abundance of summer, the shedding and surrender of fall, the peace and stillness of winter.

And gardening also connects us to the natural cycles of life and death: the seed is given life by the earth; is nourished by sunlight, rain, and minerals; it sprouts, grows, blooms; and then returns to the earth in its death, leaving new seed for regeneration and rebirth.

Gardening leads us to the sacred practice of tending. We feel awe and reverence for the amazing potential of small seed. We practice trust and surrender as we drop a seed into the dark mysteries of the soil. We practice patience, perseverance, and daily responsibility. We learn profound lessons about loss, hope, joy, gratitude, success, and failure. We witness the life cycle arising from and returning to Mother Earth. We experience the interconnectedness of all life.

The balance of the elements in a garden reflects the balance in your own life. A garden leads you into the experience of trust because you are trusting in the life cycle, the cycle of Nature. As this trust develops, your reverence for your connection to the earth continues to grow.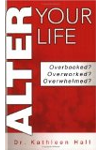 Continue Learning about Wellness