Free radicals can make it more difficult to fight off infection, damage DNA leading to cancer, lower defenses against heart disease and accelerate the aging process. Free radical damage puts the body into a 'stress' state. When the body senses stress or danger, the metabolism moves into a crisis mode where hormones throw the body out of fat burn mode and into fat storage mode.
Genes in which DNA is damaged by free radicals can no longer make proteins properly. Also, proteins themselves can be damaged by free radicals. The net result of all this damage is a decline in cell functioning, a decline in the body's ability to produce energy, an increased risk of disease, and ultimately aging and death. Anything that increases the production of or exposure to free radicals will accelerate aging; in lab experiments, for example, animals exposed to above-normal radiation, which produced free radicals, showed all the normal effects of aging but at a faster pace.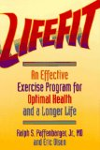 Substantial evidence implicates oxygen-free radicals as agents of inflammation and tissue destruction in many types of pain disorders. Free radicals are the unstable byproducts of oxidation, the chemical process that causes iron to rust and a peeled apple or banana to turn brown.

In the body, free radicals cause similar deterioration, as they destroy cell membranes and make cells vulnerable to decay and pathogens. These free radicals damage DNA and mitochondria, the basic building blocks of all tissues, and leave in their path many health problems.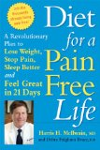 More About this Book
Diet for a Pain-Free Life: A Revolutionary Plan to Lose Weight, Stop Pain, Sleep Better and Feel Great in 21 Days, ADA...sound nutritional advice...do-able, delicious..a godsend to pain sufferers.
Do you wake up each morning aching with joint or muscle pain? Have you been trying to lose stubborn belly fat for years? Do you wish you could be active without pain medications? Look no further: Diet for a Pain-Free Life is the simple-to-follow, doctor-designed solution to improve your health. Leading rheumatologist, Dr. Harris McIlwain shares his revolutionary prescriptions in this first proven lifestyle plan that will help you drop pounds and decrease pain at the same time. Losing just 10 pounds can reduce chronic pain by as much as 90 percent. Learn the secrets of how to: Eat Well and Lose Weight with the Pain-Free Diet—even if you've never been able to succeed on a diet before Exercise Your Pain Away—even if you dislike traditional exercise, or if your pain makes movement difficult Stop the Stress-Pain Connection—even if you're overworked and easily stressed Improve the Quality of Your Sleep—even if you suffer from insomnia or other sleep conditions Those who have followed Dr. McIlwain's program have been able to resume the activities they love and transform their lives in as few as 21 days—now you can too.
Free radicals are toxic byproducts of oxygen metabolism that can cause significant damage to living cells and tissues in a process called "oxidative stress." The vitamins and minerals the body uses to counteract oxidative stress are called antioxidants.

Though free radicals are a normal byproduct of oxygen metabolism, certain environmental and behavioral risks dramatically increase the number of free radicals in the body, which in turn dramatically increases the oxidative stress on the body. Cigarette smoking is the most potent free radical generator in the body. Even one or two puffs sends the amount of oxidative stress on your body soaring. Environmental pollution, fried foods and charcoal broiled meats also increase oxidative stress. The resulting increase in free radicals can disrupt cell membranes, increase the risk of many forms of cancer and damage the interior lining of your blood vessels, leading to a higher risk of heart disease and stroke.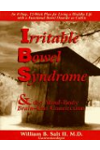 Continue Learning about Wellness