To find meaning in your work, identify the purpose of why you do what you do. Some days are easier than others, but if you can pinpoint what brings you joy every day, that can help you define your purpose. Setting goals is another way to find meaning. Goals can be very valuable for you to set and achieve. The achievement of these goals will assist in showing you the value you bring to your organization.
What calls us out of the gloomy scenario at work is our intention to experience work as a calling, a vocation, an art, science, or craft; to see the workplace as a vital community; to understand work as just one important component of a healthy balance of activities that nurture mind, body, soul.

Freud said work is the basis of sanity, and spiritual leaders throughout time have shown us that work can be sacred. To the Benedictine monastic order, work is holy because it makes us "whole-ly." Work is not seen as punishment or penance, but as participation in creation. Work is honored as a powerful source of purpose, renewal, and dignity.

Instead of experiencing work as isolating and alienating, we can begin to see our work as meaningful and valuable. Instead of divorcing ourselves from our role as co-creators with the Divine, we can choose to experience work as an awe-inspiring example of the interconnectedness of all creation.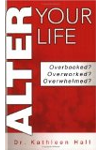 Continue Learning about Wellness