As you know, not everybody gains weight for the same reason. Some of us have slow metabolisms; others are binge eaters. Some of us gain weight because we've developed lousy eating habits that we can't seem to shake. Breathing provides a solution for all the common weight traps.
For example, some people gain weight to "protect" ourselves from emotional trauma, something that might have happened back in second grade. When you breathe, you're better able to get in touch with the emotional blocks and release them.
Nothing will help you drop pounds faster than letting go of unresolved emotions that are lodged in your body.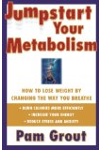 Continue Learning about Wellness