Your body, that thing you've been referring to as a tub of lard, is actually a miracle of the finest dimension. It's unmatched in intelligence, power, and flexibility. Those "love handles" that you detest are a sign of your body's great wisdom. Rather than dump excess fat in your heart or your kidneys, which might have polished you off by now, your very astute body dropped it off in a relatively benign spot. For now anyway, you can live with "love handles."
Your body's wisdom is staggering. It has five hundred muscles, two hundred bones, seven miles of nerve fibers, and enough atomic energy to destroy the entire city of Paris. You just wouldn't believe all the astounding things that go on inside your body. Each day, your heart pumps blood over ninety-six thousand miles of blood vessels. That's like racing back and forth between Los Angeles and New York thirty-two times a day. Your eyes have 100 million receptors to take in sunsets and stars and the first smile of your grandbaby. Each of your ears has twenty four thousand tissues to hear waves crashing against the shore, leaves rustling in the wind, Luciano Pavarotti singing an aria from La Boheme. Each one of your cells performs more chemical reactions than all the world's chemical manufacturing plants combined. Your brain alone has 25 billion cells. That's more than six times the number of people on this planet. Each one of these little dynamos works with pinpoint precision without. It is inconceivable that a masterpiece of this proportion would be left without the means to achieve a proper body weight.
Your body has all the tools, all the instructions, all the blueprints you will ever need to achieve a proper body weight. Just as surely as you can see, hear, taste, and smell, you have the capability within yourself to be thin.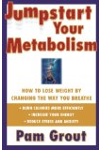 Continue Learning about Wellness