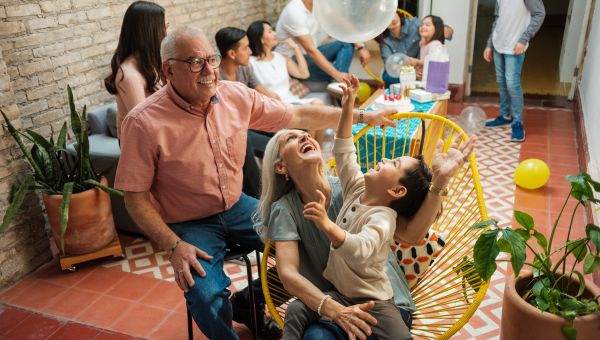 Ask your loved ones these 8 important health questions.
Think back to the countless times when you've sat in a doctor's waiting room, filling out a family health history questionnaire before an appointment. Many times, this is done in a rush with little thought to the importance or accuracy of the knowledge we have. Do we really have the answer to every question about our immediate family's medical history, let alone our grandparents, aunts, uncles and cousins?
"There is no such a thing as providing too much information," says Ramy Sayed, MD, an internal and pediatric physician with TriStar StoneCrest Medical Center in Smyrna, TN. "It is highly encouraged to provide as much information about the family history as possible to your health provider."
Even among your closest relatives, there may be health risks you don't know about. A report by the National Institutes of Health found that people were more accurate in selecting conditions their family members did not have. When participants had to identify actual diseases of family members, the accuracy varied significantly. Reports for types of cancer ranged from 33 to 95 percent accuracy, while reporting on mental health conditions was worse, with a range between six and 82 percent.
If you have a family gathering on the horizon, it may be a good time to bring up any questions that you may have about your family's medical history. These talks don't have to be awkward either. A genuine interest in the health of your loved ones can help you discover ways to better inform your own medical decisions.
What to ask
A complete family history should include information about three generations of relatives and their ethnic backgrounds. Ask a wide range of questions, focusing on conditions where heredity could be a risk factor. A few examples include:
Has anyone in our family passed away at a young age from a disease?
Has a family member been diagnosed with cancer? Were they diagnosed before 50?
Does heart disease run in our family? Has anyone had a heart attack or stroke and at what age?
Have any family members developed diabetes and how old were they when diagnosed?
Do you have high blood pressure or high cholesterol?
Is there a history of autoimmune disorders within our family?
Does our family have dementia or Alzheimer's?
Are any of our relatives suffering or have suffered from a mental illness?
If the answers to any of the above are yes, don't hesitate to follow-up with further questions. Ask about age of diagnosis, whether conditions affected multiple generations or if there were noticeable signs and symptoms. If there is a history of cancer in your family, it's relevant to note the types, if any relatives have had multiple cancer diagnoses or if multiple family members have had the same type of cancer.
These questions are far from an exhaustive list but can be a start in collecting important information to share with your doctor. If you are worried about a specific health issue, it's worth starting a conversation with other family members to see if it has been a concern for them as well.
Why it's important
"Even though a patient cannot change their genetic makeup, knowing family history can help alter that risk for a better health outcome," says Sayed.
According to the US Centers for Disease Control and Prevention, most families have a history of at least one chronic condition or disease. If your doctor has this information, together you can discuss what types of conditions to screen for and how often they should be done. If you suspect you may have an illness, family history can also "help establish a diagnosis, which may help with a better outcome or even a cure," Sayed notes.
With the help of your doctor, you can also come up with prevention techniques for certain conditions. This may include lifestyle changes through diet, exercise and managing stress. This also may include medication, regular health screenings or genetic testing.
Heredity is just one risk factor in the development of some diseases. "Not only do family members share genes, they may also share the environment, lifestyle, and habits, all of which increase or decrease the risk for developing certain health problems or diseases," notes Sayed.
It's also important to remember that the genetic links between some diseases and conditions are still being researched. Even if your chance of inheriting a condition is greater, that does not mean you will definitely be diagnosed with it.
How to ask
If it's appropriate, Sayed thinks that gatherings can be a good time to discuss family medical history. "Try to talk to family members about their health condition by asking about why's and how's of their disease," he suggests. "Even of the family members are healthy, asking about previous medical problems could be a conversation starter for an evening."
Since it might not be the most light-hearted discussion to have around the dinner table, you may prefer to speak to family members in a one-on-one setting. Make loved ones feel at ease by showing a genuine concern for their health and an interest in how they manage any conditions. Many relatives might be happy to discuss, since it allows them to share information, as well any struggles and challenges.
However, others may be reluctant to discuss their medical issues. They may be worried about alarming other family members or prefer to keep their health concerns private. Ask questions delicately and without prying, let them know that their answers may help other family members prevent the same condition.
Mental health may be a particularly tough topic to bring up. Although common, some families find it taboo to speak about these conditions. "Most of the patients only know about severe mental illness in the family from hospitalizations or recurrent exacerbation of the mental illness," says Sayed. A thoughtful way to broach the subject may be to share a recent news story or statistic you read about mental health. If you feel comfortable, talk about your own experience to open up a dialogue.
With the popularity of at-home genetic testing, many patients feel that can find out about health risks without any of the awkward family conversations. Sayed cautions against relying on these tests alone. "Genetic testing can provide valuable information. However, in most cases it raises more questions for the patient than it answers, sometimes at a considerable expense," he notes.
Many of these direct-to-consumer genetic tests are unproven and the results could be misleading, misinterpreted or completely incorrect. Plus, unexpected information about your genetics or family could be very upsetting. If you do decide to proceed with one of these tests, any results, concerns and questions should be interpreted with your healthcare provider, along with a knowledge of your family history.
Where to store your info
After gathering your family history, keep it accessible so you can have it for future doctor's appointments.
It can be as simple as handwriting all of your information to keep within your wallet or in a folder to take with you to appointments. Along with your history, write out the types of medication you take and their corresponding dosages.
It may be easier to type up a document that you can email to yourself. Documents can be secured with a password, if you are worried about privacy. Although less secure, you can also keep family history within the notes app on your phone.
There are a number of online resources that can be used to organize your health history as well.
The CDC and Surgeon General created a web-based tool called "My Family Health Portrait" that digitally stores all your information. You can also download an app that keeps all of your relevant health information in one place. Both of these options allow you to easily access your data anywhere.
Regardless of what method you choose, having a complete family history ready for your doctor to view will save you time and help both of you make informed decisions about your healthcare. Be sure to share this information within your family as well, so you can help all of your loved ones live a healthier life.
Medically reviewed in September 2018.