Many of us who've used food for comfort and entertainment have gone on one diet after the next, each time hoping to solve our weight problem for good. Our closets have become mini-boutiques to accommodate the skinny, medium, and heavy versions of our bodies. If yo-yoing has been your pattern, as your thinking comes into balance and your eating naturally follows, your weight might continue to swing for a while.

Over time, though, the size of the swings will gradually diminish. For example, if your weight used to swing by 30 pounds, it may swing by 20 pounds, then by 10, then by 5, then by just 1 or 2 pounds. Keep in mind that most people can't go from swinging by 20 or 30 pounds to 1 or 2 in a short period.

If you're still yo-yoing, you may think you're not progressing, not healing. But healing is a process, not an instantaneous fix. The key is patience. Don't torment yourself if you find that your weight continues to go up and down for a while. It's natural.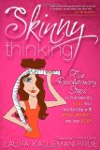 Continue Learning about Weight Maintenance

Losing the weight is only one step in the journey to better overall health. After the weight is gone, it's all about maintenance – adopting a lifestyle that incorporates healthy eating, daily exercise and continued goal setting. A...
nd there are lots of different ways to maintain your weight that help make the lifestyle switch easier: eat breakfast daily, load up on fruits and veggies and establish manageable weight loss habits like walking once a day. All of these can be easily incorporated in your healthy weight maintenance plan and keep you from putting the pounds back on.
More