Managing weight is a lifestyle, a marathon, not a sprint and sometimes it is a triathlon. For our bodies to act like and feel like we want them to; we need to first look at how we treat our bodies. Understand our choices. Do we eat whatever is in front of us most of the time and trick ourselves into thinking that we are dieting when the discipline is missing. Do we go to the gym just to check it off of our to-do list? For those who wish to lose weight- set goals and start simple. If you have struggled for a long time; try changing only one thing at a time. Maybe it is simply adding real effective time working out (break a sweat more than usual). Once you have the consistent routine with the workouts, add another thing to change. Start eating breakfast smarter. Think of the lifestyle you desire and use these building blocks to make it reality. The diet can stop and the new lifestyle is in place forever.
Dieting leads to overeating, and overeating leads to yet another diet. This is the cycle of desperation, hope, elation, deprivation, indulgence, and self-flagellation you sign on for when you listen to the ego's perspective about food and life. When you decide for the umpteenth time to go on another diet without permanently changing your relationship with food, you delude yourself into believing, despite ample evidence to the contrary, that this will be the one that works.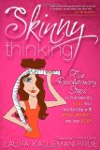 Continue Learning about Weight Maintenance

Losing the weight is only one step in the journey to better overall health. After the weight is gone, it's all about maintenance – adopting a lifestyle that incorporates healthy eating, daily exercise and continued goal setting. A...
nd there are lots of different ways to maintain your weight that help make the lifestyle switch easier: eat breakfast daily, load up on fruits and veggies and establish manageable weight loss habits like walking once a day. All of these can be easily incorporated in your healthy weight maintenance plan and keep you from putting the pounds back on.
More