The foundation of weight loss is based on nutrition, but exercise is the next key step that helps you reach your goals. In this video, celebrity fitness trainer Chris Powell explains how you can use exercise to break through a weight loss plateau.
Check Your Workout Routine and Activity Levels
Just like your diet, your exercise and activity habits can degrade too. Intensity can drop, you get pressed for time and start cutting your workouts short; it gets cold outside and you become a little less active. Over time, these reductions in activity can start to chip away at how many calories you are actually burning each day.
Even a reduction of 50-100 extra calories burned from activity can have long term fat-loss and weight loss consequences. Over a period of 30 days, ending the day up 50 calories from working out with less duration or intensity can result in a gain of a half-pound of fat in a month.
The trick here is to use the same approach to your exercise and activity that we discussed for the question: 'How can I avoid a plateau' around diet. Track your activity and exercise by:
If you are not already, begin to journal your weight and resistance training exercise, as well cardio, using either the on-line option or trusty old pen and paper.
Check to see if you are still coming in at or around your goal targets for fat/weight loss.
Use the same method of tracking activity at least one week per month. Continue to alter your workouts weekly and do not let your mind get stale with your workouts. A good rule of thumb is if you have memorized your weekly workouts and workout schedule so did your body (a long time ago…). Keep things fresh and your body will continue to respond for longer.
Here are 5 solid tips to maximize workouts and energy usage:
Make frequent changes to your workout. Workout changes prevent boredom and increase the challenge to your body.
Utilize Strength Training. It helps to maintain muscle tissue, which will help to keep your metabolism higher, it maintains "tone" and it burns more calories than cardio does.
When doing strength training be sure to use "bang for your buck" exercises that use multiple muscles and motions. If your goal is not to be a bodybuilder, then do not train like one.
Do the things that you have been putting off. The exercises that you have not done recently. Chances are your body will respond to these because they are "newer".
Get a workout partner or join a Group Training Program. You will always work out harder when you are being challenged and you are in a supportive environment.
To your health,
-Robert
Exercise of any form, resistance training or cardiovascular exercise, provides the means to expend energy, creating potential for a negative energy balance that will result in weight loss. A great way to exercise is to perform a circuit training program. Circuit training consists of several stations in which the client performs an exercise for a set amount of time or repetitions. Once time or repetitions have been achieved, then the client moves on to the next exercise in the station. Circuits can have as few as 3 exercises but can be as much as desired.
Circuit style resistance training may be better suited for burning calories and thus losing fat. Recently, several studies have compared the effects of circuit resistance training to traditional cardio forms of exercise. It was shown that circuit training was just as beneficial as traditional cardiorespiratory exercise for improving and/or contributing to improved fitness levels. The following benefits of circuit training were stated:
Produced equal to or greater caloric expenditure for the same given time span as cardiorespiratory exercise
Produced greater levels of calories expended after exercise
Increased overall strength.
Based upon this information, it appears that circuit training is a viable means for producing caloric
expenditure, increasing strength levels, and maintaining or increasing fat-free mass while cutting down on the overall time of a complete workout.
Here we touch on one of the crucial issues in battling against weight problems. When the body experiences weight loss, it sees it as a threat, which it is programmed to defend. How does it do this? It has two options: either by using up less energy, or by raiding its fat reserves. The more diets you try, the more your body learns to resist losing weight. This resistance manifests itself in slower weight loss, and the slower your weight loss becomes, the greater the risk of your losing heart and failing becomes.

This situation gives rise to the greatest danger in a diet: the stagnation plateau, a period when, although still following the diet to the letter, you fail to lose any weight. If there is nothing quite as rewarding and encouraging as seeing the pounds slip away, there is nothing as frustrating as watching your scale fail to deliver the reward you long for. Weight stagnation, when long lasting and undeserved, is responsible for the highest diet failure rates.

However -- and this is crucial -- although your body can adapt to reduced calorie intake and dieting, it is not equipped to resist calories being burned through exercise. You can burn 350 calories by gently jogging for 1 hour a day for months on end, and you will use up the same number of calories on the 45th day as on the first. But if you eat 350 fewer calories a day, within a few weeks your body will have become used to this amount, and you will have to cut out 500 calories if you want to continue losing weight.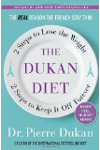 Continue Learning about Weight Maintenance