To consume the exact number of calories necessary to maintain a lean body mass that will prolong life, you must get rid of toxic hunger (physical addiction to an unhealthful, low-micronutrient diet) and get back in touch with true hunger. If you eat when hungry and don't eat when not hungry, you will never have to diet or be overweight again. You do not have to carry around a calculator and a scale to figure out how much to eat. A healthy body will give you the correct signals. You only will desire the amount of calories you actually require.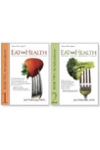 Continue Learning about Weight Maintenance

Losing the weight is only one step in the journey to better overall health. After the weight is gone, it's all about maintenance – adopting a lifestyle that incorporates healthy eating, daily exercise and continued goal setting. A...
nd there are lots of different ways to maintain your weight that help make the lifestyle switch easier: eat breakfast daily, load up on fruits and veggies and establish manageable weight loss habits like walking once a day. All of these can be easily incorporated in your healthy weight maintenance plan and keep you from putting the pounds back on.
More