Many Americans have been taught since childhood to socialize around food. While it is nice to gather with friends and family in a relaxed atmosphere of joyful eating, unfortunately, we do not do so in moderation. Instead, we find ourselves eating too much, eating out of guilt, eating when we're not hungry and eating to be polite. Instead of remembering the mantra 'food is only fuel" we have been brainwashed to believe that food is social glue for us. Try this experiment at the next family gathering. Pour yourself water with a lime or lemon in it – instead of wine or alcohol. Put a few vegetables on a plate but don't eat all of the food. Just chat with family members, smile and get up from the table from time to time to help in the kitchen or serve others. You'll probably find that few relatives will notice or ask what you're doing and why.

Continue Learning about Weight Loss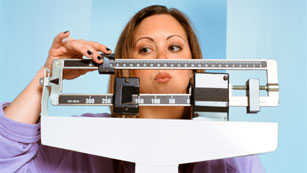 You know that to lose weight you need to burn more calories than you take in. There are only two ways to do this: reduce the number of calories you take in or increase the amount of calories you burn each day. Once you learn to do ...
this, it will be easier to maintain your weight.
More