We're an "all or nothing" society. We want instant results and gratification. If we're not losing weight fast enough we get impatient and often react by bingeing and saying "to heck with this!"

Realize that good results are worth waiting for. Nothing in life that's good comes easy. To reach success in anything you do requires consistency and perseverance. Every day that you work at your weight and at staying healthy is one day closer to success in the long term.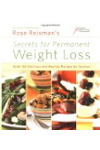 If you want to lose weight, be patient. Don't beat yourself up if the weight doesn't drop off even if you follow every fat-losing edict in the universe. Sometimes the deck is stacked against you due to our evolutionary wiring that developed during periods of starvation. One recent study in the New England Journal of Medicine strongly suggests that weight regain has a lot more to do with hormones involved in appetite regulation than lack of willpower. Maintaining fat loss can be complicated, so keep at it and make healthy living your first priority.
Continue Learning about Weight Loss