Fat is an issue that helps us to prevent binges, and which stabilizes mood-energy. Fat is not as stationary and inactive as a hibernating turtle. It can release hormones and chemical messengers that promote inflammation and will instruct your body to hold onto fat while breaking down components that are pivotal to energy metabolism, such as muscle.

Researchers have demonstrated that abdominal fat cells produce cortisol in large amounts. Japanese researchers have found that fat cells can generate free radicals that can then do damage throughout the body. They concluded that excess abdominal fat may bring on system-wide oxidative stress that has profound overall effects. So the lesson is clear: achieving and maintaining an ideal weight and a healthy muscle-to-fat ratio is important. It's also the cornerstone to optimal energy.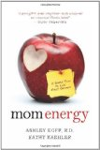 More About this Book
Mom Energy: A Simple Plan to Live Fully Charged
       From celebrated dietitian Ashley Koff and fitness trainer to the stars Kathy Kaehler comes Mom Energy, an exciting new way for moms to tap into their own natural and renewable sources of...
Continue Learning about Weight Loss