Our metabolism tends to slow down as we get older—that's a known fact.

Patients who have been heavy for a long time start to suffer from problems that limit their activity. They may have heart disease, joint disease or chronic pain. Those things tend to inhibit people from being active and doing things that would meet the requirement for doing brisk exercise each day.

One of my biggest challenges is just getting people off the bench—you have to get up and do something every day. I like when patients admit they're not doing anything, because that give us a starting point to proceed from.

My younger patients are probably more active, because their youthfulness usually gives them more energy. Their joints haven't gotten bad and they may not have diabetes and heart disease, so they may just be inherently more active.

Plus, you're probably more likely to go to a gym and see younger people. Why? Because younger people have that mindset—it's the environment milieu.

Trinity Health is a Catholic health care organization that acts in accordance with the Catholic tradition and does not condone or support all practices covered in this site. In case of emergency call 911. This site is educational and not a substitute for professional medical advice, always seek the advice of a qualified healthcare provider.
Metabolism, or the amount of calories naturally burned per day, decreases as we age. Weight loss can become more challenging because we must reduce food intake even more compared to younger years to see a reduction in weight.
Muscles are high-maintenance tissues, meaning they burn up a lot of calories. The more lean muscle mass you maintain as you age, the better you age, and the more calories you will burn. One feature to aging people forget about, though, is the natural decline in muscle mass and strength that occurs. Starting in our thirties, we lose an average of one-quarter of a pound of muscle each year. In terms of muscle strength, we lose one percent of our muscle strength every year. This picks up speed between the ages of sixty-five and seventy-five to an annual loss of 1.5 percent of our muscle strength. If you've ever been frustrated by not being able to lose weight as quickly as, say, your spouse, you can thank your lower muscle mass for that. When you do the math for this equation, you see how easy it is to fatten up automatically through the years without changing anything in your diet. If you burn 200 calories a day fewer at fifty than you did at thirty, those calories have to go somewhere if you're still consuming them.

From The Mind-Beauty Connection: 9 Days to Less Stress, Gorgeous Skin, and a Whole New You by Amy Wechsler.
People forget the effects that aging has on the body and the ability to maintain a strong energy metabolism. In addition to the muscle loss and strength that we experience naturally alongside the inevitable slowdown of our metabolisms over time, we fail to consider the practical reasons for weight gain and energy depletion: we have a tendency to become more sedentary yet don't change our eating habits. Hormonal changes put more nails in the coffin, exacerbating an already troubled energy metabolism. This is why a study released and published in the Journal of the American Medical Association stated clearly that about a half hour of exercise five days a week won't stop weight gain while getting older without cutting calories. Put another way, it takes more to lose more as you age more. According to this study, older women at a healthy weight need to engage in moderate activity for at least an hour a day if they want to maintain their weight without changing their diets. The research is more sobering for those who are already overweight: even more exercise is called for to avoid gaining weight without eating less.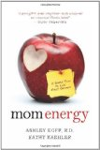 More About this Book
Mom Energy: A Simple Plan to Live Fully Charged
       From celebrated dietitian Ashley Koff and fitness trainer to the stars Kathy Kaehler comes Mom Energy, an exciting new way for moms to tap into their own natural and renewable sources of...
Continue Learning about Weight Loss